SFTHCC President Addresses CCTHCC.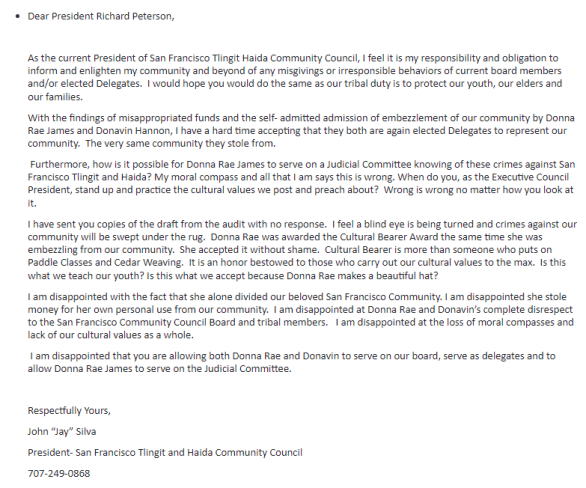 3/21/2022 President John Silva emailed the executive board as voted upon by the SFTHCC board with all in favor.
4/1/2022 President John Silva follows up with the executive board.
We have a responsibility to respond to our citizens. SFTHCC has reached out to CCTHITA without a response, other than "We are looking into this". The SFTHCC Board has already looked into this by performing an unbiased investigation hiring a professional law firm and obtaining a personal admission of guilt. What should we tell our citizens who keep asking the board what they are going to do about it? Citizens who voted before this vital information could be released.
Recent News
Savannah Silva is Tlingit & Haida's Community Navigator for San Francisco. She is a local resource to help tribal citizens navigate and apply for programs and services (e.g. financial assistance, employment, training, and housing) and assists with the Tribe's Program Compliance (Tribal Enrollment) department with the coordination of tribal enrollment services. Read More
During the December 11 2022 Regular Meeting, the Council passed Resolution 22-02 SFTHC Council Directives Concerning Treasurer Authority and Its U.S. Bank Account Proceeds and Resolution 22-03 Affirmation of Rules of Election and Adoption of Parliamentary Authority and Procedure. Read More
These minutes were approved by the council on 12/13/2022. All agenda items were postponed until the next meeting to allow more time for council members to review documents and to add time for tribal citizen comment. Read More
We understand that applying for jobs can be a daunting and overwhelming experience. So, we're hosting a session on how to apply for jobs at USAjobs.gov.  Federal agencies use USAJOBS to host job openings and match qualified applicants to those jobs. USAJOBS serves as the central place… Read More
The State of California is proud to announce the launch of the California Kids Investment and Development Savings Program (CalKIDS). CalKIDS gives children in California a jump start on saving for college or career training. All participants receive a seed deposit in a CalKIDS account to help pay for future education after high school. Read More