Small Business Relief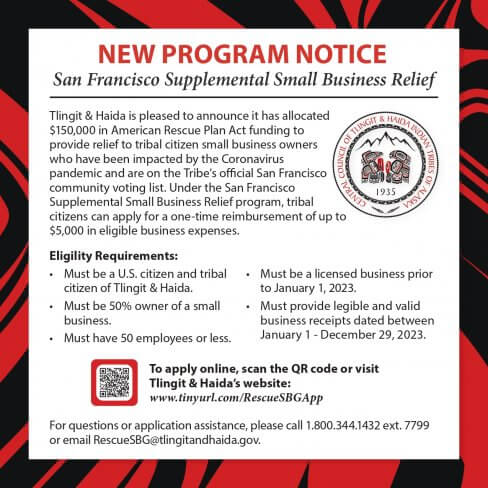 Tlingit & Haida has allocated $50,000 in American Rescue Plan Act (ARPA) funding to provide additional relief to tribal citizen-owned small businesses who are on Tlingit & Haida's official voting list for the community of San Francisco and have been impacted by the ongoing Coronavirus pandemic.
Under the San Francisco Supplemental Small Business Relief program, tribal citizens who are at least 50% owner of a small business can apply for one-time financial assistance to receive a reimbursement of up to $5,000 for eligible business expenses or costs incurred due to the Coronavirus pandemic. Only one application per business will be accepted.
Funds must be expended in compliance with federal law and only those eligible expenses incurred after January 1, 2023 or reasonably expected to be incurred by December 29, 2023 are eligible. Applicants are required to follow the Purpose of Funds guidelines in the application.
Documented expenses previously used to apply for and receive relief assistance from another ARPA program are not eligible. All applicants will be contacted for assistance with any missing documents and to provide guidance during the application review.
Applications will be closed after 30 days of no response from applicant.
Application: https://prod.tribald.com/ccthprod/atthitaintake.aspx
Link to Central Council page with more details: https://www.ccthita.org/info/news/rescue/sanfranrescuesbg.htm
Questions? Call 907.463.7799 or email RescueSBG@tlingitandhaida.gov
Recent News
The meeting minutes and all approved documents from the June 11, 2023 meeting. Read More
Tlingit & Haida is pleased to announce its Rescue Relief Backpack program is gearing up to provide backpacks to tribal citizen youth who reside outside of Southeast Alaska! The Rescue Relief Backpack program is funded under Tlingit & Haida's American Rescue Plan Act (ARPA) funding. 𝗔𝗽𝗽𝗹𝗶𝗰𝗮𝘁𝗶𝗼𝗻 𝗣𝗲𝗿𝗶𝗼𝗱: Before September 30,… Read More
Tlingit & Haida has allocated $50,000 in American Rescue Plan Act (ARPA) funding to provide additional relief to tribal citizen-owned small businesses who are on Tlingit & Haida's official voting list for the community of San Francisco and have been impacted by the ongoing Coronavirus pandemic. Under the San… Read More
The community burial fund provides $1,000 per qualified citizen. View the post for eligibility requirements and the application link. Read More
The Household Relief Program provides $1,000 per resident or non-resident tribal citizen. To apply, you must be a tribal citizen and registered to Tlingit & Haida's San Francisco community. Read More