Community Burial Fund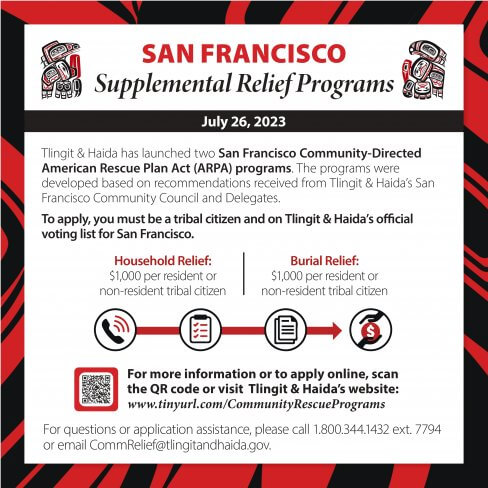 San Francisco Community Burial Fund Application: https://prod.tribald.com/ccthprod/CCTHBAIntake.aspx
The community burial fund provides $1,000 per qualified citizen.
Eligibility
Applicant or Deceased must be enrolled in T&H and have San Francisco as their current voting community.
San Francisco resident and non-resident tribal citizens are eligible to apply.
$1,000 per qualified citizen/up to 10 applications total.
'Date of Death' must be on or after March 11, 2021.
Authorized applicant must provide verification of death (death certificate)
Must be 18 or older to apply for funding; exceptions may apply.
One application per deceased citizen.
Recent News
The meeting minutes and all approved documents from the June 11, 2023 meeting. Read More
Tlingit & Haida is pleased to announce its Rescue Relief Backpack program is gearing up to provide backpacks to tribal citizen youth who reside outside of Southeast Alaska! The Rescue Relief Backpack program is funded under Tlingit & Haida's American Rescue Plan Act (ARPA) funding. 𝗔𝗽𝗽𝗹𝗶𝗰𝗮𝘁𝗶𝗼𝗻 𝗣𝗲𝗿𝗶𝗼𝗱: Before September 30,… Read More
Tlingit & Haida has allocated $50,000 in American Rescue Plan Act (ARPA) funding to provide additional relief to tribal citizen-owned small businesses who are on Tlingit & Haida's official voting list for the community of San Francisco and have been impacted by the ongoing Coronavirus pandemic. Under the San… Read More
The community burial fund provides $1,000 per qualified citizen. View the post for eligibility requirements and the application link. Read More
The Household Relief Program provides $1,000 per resident or non-resident tribal citizen. To apply, you must be a tribal citizen and registered to Tlingit & Haida's San Francisco community. Read More