Tlingit & Haida's San Francisco Community Navigator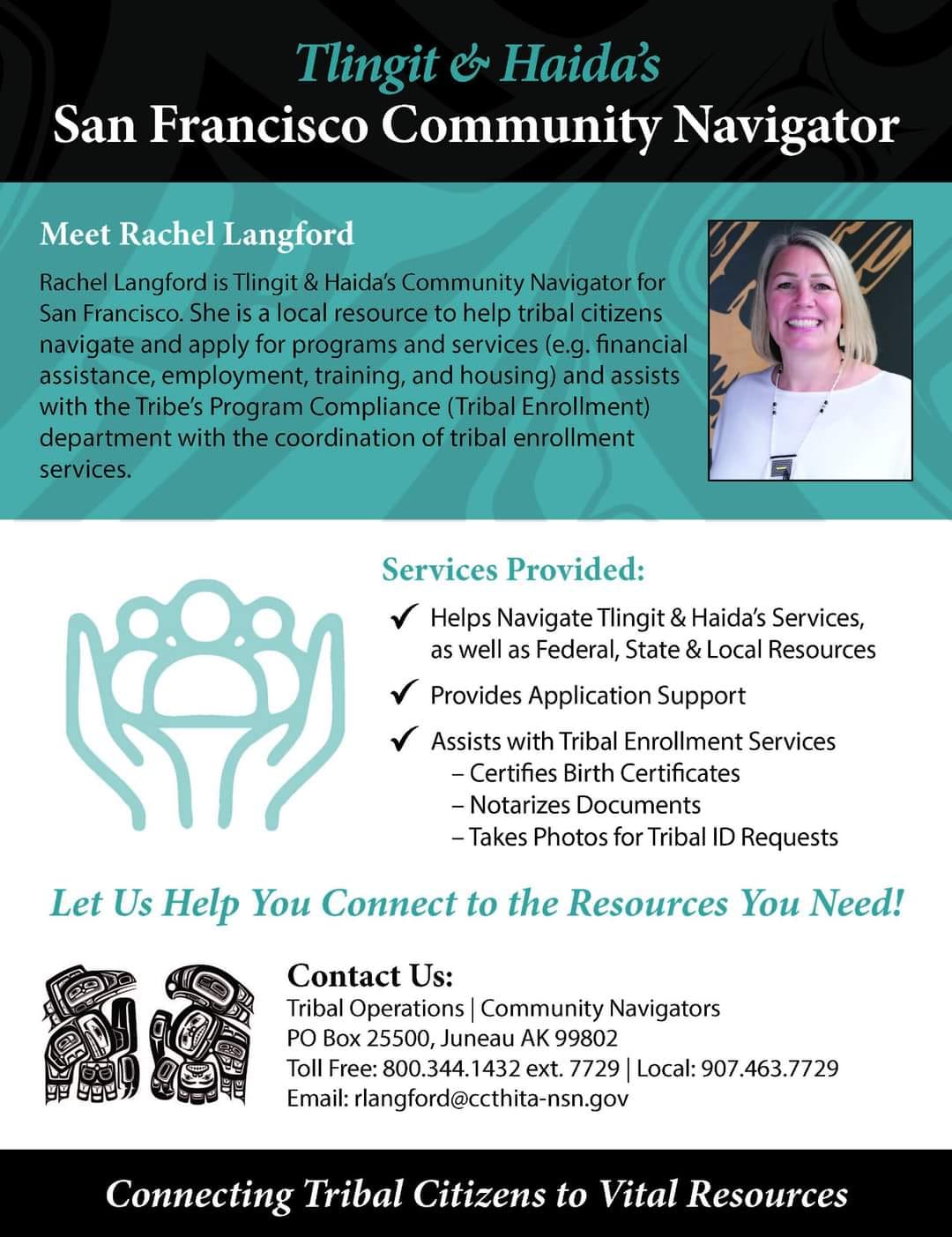 Meet Rachel Langford
Rachel Langford is Tlingit & Haida's Community Navigator for San Francisco. She is a local resource to help tribal citizens navigate and apply for programs and services (e.g. financial assistance, employment, training, and housing) and assists with the Tribe's Program Compliance (Tribal Enrollment) department with the coordination of tribal enrollment services.
Services Provided:
Helps Navigate Tlingit & Haida's Services as well as Federal, State & Local Resources
Provides Application Support
Assists with Tribal Enrollment Services

Certifies Birth Certificates
Notarizes Documents
Takes Photos for Tribal ID Requests
Let Us Help You Connect to the Resources You Need!
Contact Us:
Tribal Operations Community Navigators
PO Box 25500, Juneau AK 99802
Toll Free: 800.344.1432 ext. 7729 | Local: 907.463.7729
Email: rlangford@ccthita-nsn.gov

Connecting Tribal Citizens to Vital Resources
Recent News
Rachel Langford is Tlingit & Haida's Community Navigator for San Francisco. She is a local resource to help tribal citizens navigate and apply for programs and services (e.g. financial assistance, employment, training, and housing) and assists with the Tribe's Program Compliance (Tribal Enrollment) department with the coordination of tribal enrollment services. Read More
The State of California is proud to announce the launch of the California Kids Investment and Development Savings Program (CalKIDS). CalKIDS gives children in California a jump start on saving for college or career training. All participants receive a seed deposit in a CalKIDS account to help pay for future education after high school. Read More
Tlingit & Haida is providing backpacks to tribal citizen youth who reside outside of Southeast Alaska. Application Period: June 13 - September 30, 2022 Read More
Will Micklin, President; Robin Montano, Vice President; Laurie Kozisek, Treasurer; Donavin Hannon, Secretary Read More
COUNCIL SPECIAL MEETING MINUTES May 09, 2022 | 7:00pm Pacific Standard Time | Teleconference CALL TO ORDER Will Micklin assumed the chair without objection and called the meeting to order at 7:01pm. ROLL CALL Council Members Will MicklinPresentRobin MontanoPresentLaurie KozisekPresentDonavin HannonPresentDonnaRae James-HannonPresentJohn (Jay) SilvaPresentNatalie SuanPresent QUORUM: Declared OLD BUSINESS: None… Read More