Learn how to apply for jobs at USAJOBS.GOV!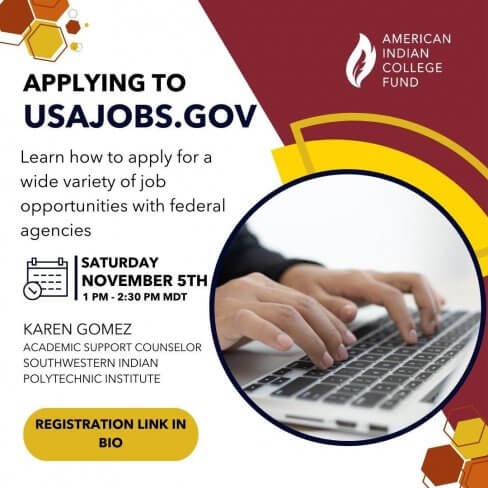 We understand that applying for jobs can be a daunting and overwhelming experience. So, we're hosting a session on how to apply for jobs at USAjobs.gov. 
Federal agencies use USAJOBS to host job openings and match qualified applicants to those jobs. USAJOBS serves as the central place to find opportunities in hundreds of federal agencies and organizations.
So join us on Saturday, November 5th from 1 PM to 2:30 PM MDT as our host Karen Gomez, Academic Support Counselor at Southwestern Indian Polytechnic Institute, provides a step-by-step guide on navigating the USAjobs.gov website.
Register at the link below and you'll receive a follow up email with details on how to join the session!
Registration link: https://bit.ly/3FmywjD
Recent News
The meeting minutes and all approved documents from the June 11, 2023 meeting. Read More
Tlingit & Haida is pleased to announce its Rescue Relief Backpack program is gearing up to provide backpacks to tribal citizen youth who reside outside of Southeast Alaska! The Rescue Relief Backpack program is funded under Tlingit & Haida's American Rescue Plan Act (ARPA) funding. 𝗔𝗽𝗽𝗹𝗶𝗰𝗮𝘁𝗶𝗼𝗻 𝗣𝗲𝗿𝗶𝗼𝗱: Before September 30,… Read More
Tlingit & Haida has allocated $50,000 in American Rescue Plan Act (ARPA) funding to provide additional relief to tribal citizen-owned small businesses who are on Tlingit & Haida's official voting list for the community of San Francisco and have been impacted by the ongoing Coronavirus pandemic. Under the San… Read More
The community burial fund provides $1,000 per qualified citizen. View the post for eligibility requirements and the application link. Read More
The Household Relief Program provides $1,000 per resident or non-resident tribal citizen. To apply, you must be a tribal citizen and registered to Tlingit & Haida's San Francisco community. Read More