Traditional Cedar Bark Hat Class Completed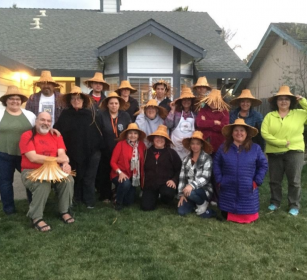 February 16th-18th a traditional cedar bark weaving hat class with 17 participants was led by myself (DonnaRae James – Haida weaver) and helpers Linda Starbard and Gordon James Jr. (JR) of Washington.
Preparation with the bark and hat forms for each person was a must. I was fortunate enough to find someone to make 16 hat forms for the class.
A huge thank you to Lauren Peters who received a grant from Alliance for Traditional California Arts. The grant supported 10 hat kits of the 17 students.
Recent News
Sealaska is partnering with Central Council of the Tlingit and Haida Indian Tribes of Alaska (Tlingit & Haida) and Sealaska Heritage Institute (SHI) to host a community gathering in Roseville,… Read More
February 16th-18th a traditional cedar bark weaving hat class with 17 participants was led by myself (DonnaRae James – Haida weaver) and helpers Linda Starbard and Gordon James Jr. (JR) of Washington. Preparation with the bark and hat forms for each person was a must. I was fortunate enough to… Read More
San Francisco Tlingit & Haida Community Council · Thursday, March 17, 2016 The delegates of the Tribal Assembly shall regularly assemble each year commencing on the third Thursday in April except in each year that delegate elections are held, the Tribal Assembly… Read More
Notice – Nominations Meeting will be on Jan 28, 2018 at Isleton Community Center at 11AM. Read More