This page will be updated as new information, guidelines, and policy measures occur. Please check back frequently for the most up to date information.
Health Information
Vaccination
As of March 2021, three vaccines have received FDA emergency use authorization.
All SF Tlingit & Haida members over age 12 are currently eligible for vaccination through Indian Health Service medical providers. Visit IHS.gov to search for a provider near you.
You can find specific vaccine locations and schedule an appointment at a local pharmacy using vaccines.gov.
Prevention – Protect Yourself and Those Around You
Transmission – How the Virus Spreads
COVID-19 is primarily spread through droplets, usually on objects from people coughing or sneezing. After touching those infected objects and later touching your face, the virus enters through your mouth, nose, or eyes. You should keep 6 feet of distance between anyone outside of your household to minimize the spread of the virus.
Asymptomatic people (people not showing symptoms like fever, coughing, shortness of breath; but do have the disease) may also spread the virus. This is why public health departments throughout the US have recommended the use of cloth face coverings in all public areas.
Proper Face Covering Usage
Cloth face coverings – such as a bandana, scarf or homemade cloth cover – are now recommended when leaving the house for essential activities.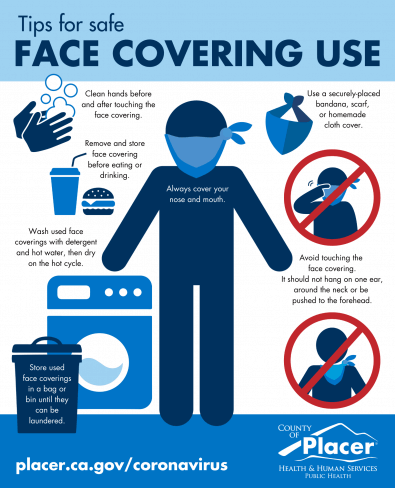 How Long Does the Virus Survive on Surfaces?
| Material | Examples | Duration |
| --- | --- | --- |
| Wood | furniture, decking , bentwood box | 4 Days |
| Plastic | packaging like milk containers and detergent bottles, subway and bus seats, backpacks, elevator buttons | 3 Days |
| Metal | doorknobs, jewelry, silverware | 4 Hours – 5 Days depending on type |
| Stainless Steel | refrigerators, pots and pans, sinks, some water bottles | 3 Days |
| Cardboard | shipping boxes | 4 Hours |
| Glass | drinking glasses, measuring cups, mirrors, windows | Up to 5 days |
| Aluminum | soda cans, aluminum foil, water bottles | Up to 8 hours |
| Copper | copper bracelets, pennies, teakettles, cookware | 4 Hours |
| Ceramic | dishes, pottery, coffee mugs | 5 Days |
| Food | not spread through food, except for germs on surface from infected individuals | 0 Hours |
SOURCES:
CDC: "How It Spreads," "Water Transmission and COVID-19."
FDA: "Food safety and the coronavirus disease 2019 (COVID-19)."
Harvard Medical School: "Coronavirus Resource Center."
Journal of Hospital Infection: "Persistence of coronaviruses on inanimate surfaces and their inactivation with biocidal agents."
New England Journal of Medicine: "Aerosol and surface stability of SARS-CoV-2 as compared with SARS-CoV-1."
News release, National Institutes of Health.
Purdue University: "Don't fear eating your fruits and veggies as virus concerns grip nation."
UC Davis: "Safe Handling of Fruits and Vegetables."
What you can do
Routinely clean high-touch surfaces throughout your home.
High-touch surfaces include phones, remote controls, counters, tabletops, doorknobs, bathroom fixtures, toilets, keyboards, tablets, and bedside tables.
Testing – How Do You Know You Have It?
COVID-19 is diagnosed by a nose and throat swab (nasopharyngeal swab) taken by a medical professional, or self-collection under the supervision of a medical professional. The swab enters through your nose and goes all the way to the back of your throat.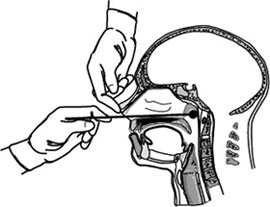 Samples are then sent to a lab or on-site testing facility and tested for the SARS-CoV-2 virus. You get your results back anytime from a few hours to a week.
If you are experiencing symptoms and live near one of the following areas, you may be eligible for drive-thru testing.
Bakersfield
Clearlake
Lake Elsinore
Lakeport
Long Beach
Los Angeles
Napa
Oakland
Sacramento
Salida
San Jose
San Mateo
Sherman Oaks
Stockton
Susanville
Who's Affected
Everyone is susceptible to COVID-19 and individuals who have already had COVID-19 can get it again.
Individuals who have preexisting conditions, are over the age of 60, or have reduced lung capacity (including smokers) are at increased risk of severe symptoms from the disease than others.
In the near future, antibody testing may be able to identify individuals who have a natural immunity to the SARS-CoV-2 virus.
Treatment
As of 5/2/2020, one treatment has received FDA (Food and Drug Administration) approval for emergency use. Remdesivir, created by Gilead Sciences Inc., has been in three international studies to date. The most notable conducted by the National Institute of Infectious Diseases (NSAID), headed by Dr. Fauci.
The results of the study concluded that there is a strong likelihood that patients treated with remdesivir recovered 31% faster (11 days compared to 15 days) than patients who received a placebo (p<0.001).
It is far from a cure, but it will help speed up recovery from advanced cases.
Do not take hydroxychloroquine to treat Covid-19.
Do not ingest disinfectants like bleach or alcohol to try to treat or prevent Covid-19.
Myths
Have you heard information about Coronavirus that you are unsure about? Checkout the World Health Organization's (WHO) mythbusters page.
For example, did you know that COVID-19 can be transmitted in areas with hot and humid climates? This is contrary to what most people believe because it is not the same as the common flu.
How Coronavirus Affects the Body
A case of "mild" COVID-19 includes a fever and cough more severe than the seasonal flu but does not require hospitalization.
Those mild cases occur because the body's immune system is able to contain the virus in the upper respiratory tract (nose, mouth, throat).
In more severe cases, the virus travels down the respiratory tract and causes inflammation of key components inside your lungs (alveoli). The inflammation of alveoli allows fluid to enter them and disrupts the transfer of oxygen into the bloodstream.
The result is what you know as pneumonia.
You can see pictures and a more detailed explanation of this process here.
Questions answered by a respiratory expert.
Policy Information
Guide to Coronavirus Mortgage Relief Options
If you're among those financially impacted by the coronavirus pandemic, you might be concerned about how to pay your mortgage or rent. Federal and state governments have announced plans to help struggling homeowners during this time. Read this to get information on what to do now, and what your options are for mortgage and rental relief.
consumerfinance.gov/mortgage-relief
Job Loss
Governor Newsom announced a new job matching website for Californians who have experienced job loss. The website will help you connect to essential life services, re-training, and your next job.
Rent and Mortgage – What You Should Know
The Washington Post has put out an article detailing various situations you, a friend, or family member may be facing. The article includes things such as job loss, evictions, and foreclosures.
Tax Deadline Extended
The Treasury Department and IRS announced that the federal income tax filing due date is automatically extended from April 15, 2020, to July 15, 2020.
Taxpayers can also defer federal income tax payments due on April 15, 2020, to July 15, 2020, without penalties and interest, regardless of the amount owed. This deferment applies to all taxpayers, including individuals, trusts and estates, corporations and other non-corporate tax filers as well as those who pay self-employment tax.
Taxpayers do not need to file any additional forms or call the IRS to qualify for this automatic federal tax filing and payment relief. Individual taxpayers who need additional time to file beyond the July 15 deadline, can request a filing extension by filing Form 4868 through their tax professional, tax software or using the Free File link on IRS.gov. Businesses who need additional time must file Form 7004.
The IRS urges taxpayers who are due a refund to file as soon as possible. Most tax refunds are still being issued within 21 days.
The IRS will continue to monitor issues related to the COVID-19 virus, and updated information will be posted on a special coronavirus page on IRS.gov.
The state of California has also extended its tax deadline to July 15th.
More Resources
California Department of Public Health Covid-19 Updates