This page will be updated as new information, guidelines, and policy measures occur. Please check back frequently for the most up to date information.
Contents
⭐ Rescue Relief Programs
Health Information
Policy Information
Rescue Relief Programs
San Francisco Community Directed
Supplemental Household Relief provides $1,000 per resident or non-resident tribal citizen.
Community Burial Fund provides $1,000 per deceased resident or non-resident tribal citizen.
Central Council
Central Council received American Rescue Plan Act (ARPA) funds in 2021. As part of the funding received, they are offering rescue programs that can be viewed using the link below.
Tlingit & Haida is pleased to announce the Rescue Relief Household program has launched. The program is funded through the American Rescue Plan Act and provides $1,000 per tribal citizen within an eligible U.S. household that has been impacted by the COVID-19 pandemic. This program is a one-time program to offset some of the expenses households are facing. Please note, this is not a per-capita distribution.
The Rescue Relief Household program is open until December 2024 or until all funds are disbursed. All tribal citizens are eligible to apply, including households who previously received funding under the CARES Act Need-Based programs.
Health Information
Vaccination
As of March 2021, three vaccines have received FDA emergency use authorization.
All SF Tlingit & Haida members over 6 months old are currently eligible for vaccination through Indian Health Service medical providers. Visit IHS.gov to search for a provider near you.
You can find specific vaccine locations and schedule an appointment at a local pharmacy using vaccines.gov.
Prevention – Protect Yourself and Those Around You
Treatment
If you test positive and are more likely to get very sick from COVID-19, treatments are availableexternal icon that can reduce your chances of being hospitalized or dying from the disease. Medications to treat COVID-19 must be prescribed by a healthcare provider and started as soon as possible after diagnosis to be effective. Contact a healthcare provider right away to determine if you are eligible for treatment, even if your symptoms are mild right now.
Don't delay: Treatment must be started within days of when you first develop symptoms to be effective.
People who are more likely to get very sick include older adults (ages 50 years or more, with risk increasing with older age), people who are unvaccinated, and people with certain medical conditions, such as a weakened immune system.
Being vaccinated makes you much less likely to get very sick. Still, some vaccinated people, especially those ages 65 years or older or who have other risk factors for severe disease, may benefit from treatment if they get COVID-19. A healthcare provider will help decide which treatment, if any, is right for you.
Transmission – How the Virus Spreads
COVID-19 is primarily spread through droplets, usually on objects from people coughing or sneezing. After touching those infected objects and later touching your face, the virus enters through your mouth, nose, or eyes. You should keep 6 feet of distance between anyone outside of your household to minimize the spread of the virus.
Asymptomatic people (people not showing symptoms like fever, coughing, shortness of breath; but do have the disease) may also spread the virus. This is why public health departments throughout the US have recommended the use of cloth face coverings in all public areas.
Proper Face Covering Usage
Cloth face coverings – such as a bandana, scarf or homemade cloth cover – are now recommended when leaving the house for essential activities.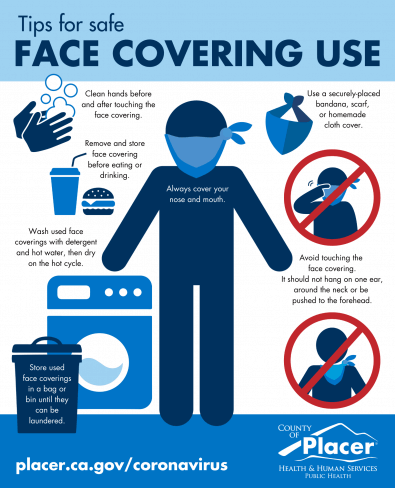 How Long Does the Virus Survive on Surfaces?
| Material | Examples | Duration |
| --- | --- | --- |
| Wood | furniture, decking , bentwood box | 4 Days |
| Plastic | packaging like milk containers and detergent bottles, subway and bus seats, backpacks, elevator buttons | 3 Days |
| Metal | doorknobs, jewelry, silverware | 4 Hours – 5 Days depending on type |
| Stainless Steel | refrigerators, pots and pans, sinks, some water bottles | 3 Days |
| Cardboard | shipping boxes | 4 Hours |
| Glass | drinking glasses, measuring cups, mirrors, windows | Up to 5 days |
| Aluminum | soda cans, aluminum foil, water bottles | Up to 8 hours |
| Copper | copper bracelets, pennies, teakettles, cookware | 4 Hours |
| Ceramic | dishes, pottery, coffee mugs | 5 Days |
| Food | not spread through food, except for germs on surface from infected individuals | 0 Hours |
SOURCES:
CDC: "How It Spreads," "Water Transmission and COVID-19."
FDA: "Food safety and the coronavirus disease 2019 (COVID-19)."
Harvard Medical School: "Coronavirus Resource Center."
Journal of Hospital Infection: "Persistence of coronaviruses on inanimate surfaces and their inactivation with biocidal agents."
New England Journal of Medicine: "Aerosol and surface stability of SARS-CoV-2 as compared with SARS-CoV-1."
News release, National Institutes of Health.
Purdue University: "Don't fear eating your fruits and veggies as virus concerns grip nation."
UC Davis: "Safe Handling of Fruits and Vegetables."
What you can do
Routinely clean high-touch surfaces throughout your home.
High-touch surfaces include phones, remote controls, counters, tabletops, doorknobs, bathroom fixtures, toilets, keyboards, tablets, and bedside tables.
Testing – How Do You Know You Have It?
COVID-19 is diagnosed by a nose and throat swab (nasopharyngeal swab) taken by a medical professional, or self-collection under the supervision of a medical professional. The swab enters through your nose and goes all the way to the back of your throat.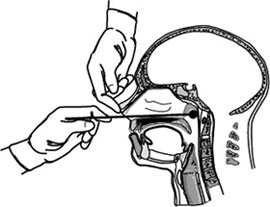 Samples are then sent to a lab or on-site testing facility and tested for the SARS-CoV-2 virus. You get your results back anytime from a few hours to a week.
Who's Affected
Everyone is susceptible to COVID-19 and individuals who have already had COVID-19 can get it again.
Individuals who have preexisting conditions, are over the age of 60, or have reduced lung capacity (including smokers) are at increased risk of severe symptoms from the disease than others.
In the near future, antibody testing may be able to identify individuals who have a natural immunity to the SARS-CoV-2 virus.
Myths
Have you heard information about Coronavirus that you are unsure about? Checkout the World Health Organization's (WHO) mythbusters page.
For example, did you know that COVID-19 can be transmitted in areas with hot and humid climates? This is contrary to what most people believe because it is not the same as the common flu.
How Coronavirus Affects the Body
A case of "mild" COVID-19 includes a fever and cough more severe than the seasonal flu but does not require hospitalization.
Those mild cases occur because the body's immune system is able to contain the virus in the upper respiratory tract (nose, mouth, throat).
In more severe cases, the virus travels down the respiratory tract and causes inflammation of key components inside your lungs (alveoli). The inflammation of alveoli allows fluid to enter them and disrupts the transfer of oxygen into the bloodstream.
The result is what you know as pneumonia.
You can see pictures and a more detailed explanation of this process here.
Questions answered by a respiratory expert.
Policy Information
Guide to Coronavirus Mortgage Relief Options
If you're among those financially impacted by the coronavirus pandemic, you might be concerned about how to pay your mortgage or rent. Federal and state governments have announced plans to help struggling homeowners during this time. Read this to get information on what to do now, and what your options are for mortgage and rental relief.
consumerfinance.gov/mortgage-relief
Job Loss
Governor Newsom announced a new job matching website for Californians who have experienced job loss. The website will help you connect to essential life services, re-training, and your next job.
More Resources
California Department of Public Health Covid-19 Updates